GroopLive keeps you and your community connected, your group can continue to deliver your meetings, sessions and events at anytime, anywhere.
GroopLive is video conferencing through 'My GroopChat' and 'Events' on the software.
GroopLive enables you to schedule one-to-one and group sessions with your users using your laptop or PC, meaning that everyone is connected no matter where they are.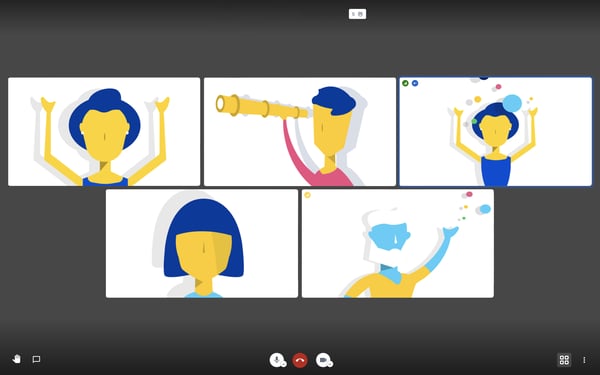 GroopLive gives users the ability to also communicate through the text chat feature by clicking the icon. Here users can communicate to all particpants.

Users can turn their microphone

on

or

off

by clicking the microphone icon.




Users can also enable or disable their camera by clicking the video icon.

During a GroopLive meeting, a user can raise their hand to indicate they would like to speak by clicking the icon.
Users have the ability to change the GroopLive onscreen layout by clicking on the tile view icon. This will show all participants in a grid arrangement.

Other options are available from the

ellipsis menu.
System Requirements - GroopLive currently works on desktop and laptop devices running these browsers - Firefox, Google Chrome, Chromium.
Other browsers can access GroopLive but with limited functionality.
GroopLive is hosted entirely on Groop servers, meaning your data is entirely secure within Groop. Our UK Hosting meets all critical security standards including;
Information Security Management (ISO27001)
Quality Management (ISO9001)
IT Service Management (ISO20000)
Security Controls for Cloud Services (ISO27017)
Personal Data in the Cloud Security (ISO27018)
Access to any GroopLive event is controlled entirely from within Groop.
GroopLive is only available to verified users of your Groop.
Encrypted Json Web Tokens between participants and Groop's servers prevent external parties accessing a GroopLive event.
GroopLive is hosted on Groop servers and powered by Jitsi, enabling us to build and deploy a secure video conferencing solution within our platform.
For more information on how to setup a GroopLive Online Event click here
For information on how to setup Grooplive through the GroopChat area click here