GroopLive is accessed by invite only - to join a GroopLive event follow these easy steps
If you have been invited to join a GroopLive event this will be found in 'My Events'
Online meetings are distinguishable with a Join Online button. This button will not function outside of the scheduled meeting times
Once a meeting is live a green dot will appear enabling the invited users to join the meeting
When the user clicks 'Join Online' they will join the live meeting. Your browser may ask for permission to access you microphone and camera - if you wish to be seen and heard allow access.
Once in the meeting you can turn your microphone on and off and the same with the video by using these buttons - and .
To leave or end the call simply press the red hang up button and close the browser window
---
Join GroopLive Events on your mobile!
GroopLive is accessed by invite only - to join a GroopLive event from the Mobile App, follow these easy steps.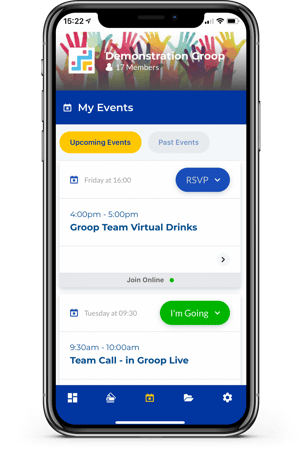 Your events page gives you all of the events that you have been invited to

and here you can respond to these to say that you're 'Going' 'Not Going' or 'Undecided' here you can also see which event is a GroopLive Online Event.

To respond to the event simply tap the 'RSVP' button and select from the drop down choice
You can filter your events via the 'down arrow' located under the blue 'My Events' banner
You can find out more information about the event by taping the to the right of the event

To Join the Online GroopLive Event, this will only be possible once the start time for thisevent is met. Once live you can then tap the Join Online button.
To find out more information about GroopLive Online click her